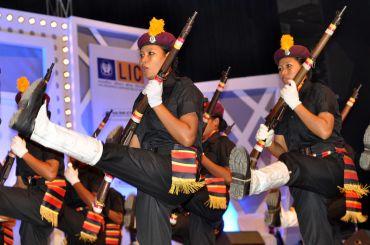 Street harassment is rampant across India and activists and leaders there have tried various tactics to deal with it, from women-only public transportation to safety audits to rallies. Here's a new tactic: In Guwahti, the police force is introducing a special 100 women division to tackle street harassment.
"We have trained 100 women constables in the martial arts, arms drill, and silent drill to make them tough. We are going to launch this force at a function on Friday. The 100 women constables are from various battalions of the state police and were specially trained in Tamil Nadu," said Assam Police DGP JN Choudhury.
During the launching ceremony, the Viranganas are going to display the various tactics they were taught.
The concept of a special women's force emerged from the greatest women warriors, who sacrificed their lives to protect the society. The Virangana ideal commends physical training and active deployment of the body in combat.
"We have many Viranganas in our history. From Kanaklata and Mula Gabhoru of Assam to 'Jhansi Ki Raani' – Laxmi bai, many women leaders and warriors rose to fight for the greater interest of the society," said a senior officer of Assam Police.
The Virangana force is likely to have a different uniform with a sword. "We can beat anyone. We are trained to restrain any kind of assault towards women. We hope this force can add a landmark in maintaining law and order in the city. We want all women to cooperate with us in protecting their modesty," said Bimala, a cadre of the force, who is trained in martial art.
"The strength and efficacy of the Viranganas are in many respects similar to those of the warring goddess Durga or Kali, her defeat of threatening enemies corresponding to the goddess' punishment of evil demons. The Viranganas, thus, conjoin physical prowess and moral strength in a startling counter paradigm of Indian womanhood," added another Virangana cadre."
Thoughts?
Share on Facebook