Since writing my master's thesis on street harassment in 2007, I've been documenting the anti-street harassment movement. Since 2010, I've spent time at the end of each December reviewing the year as it relates to street harassment. In 2012, it was a 5 part series, in 2011, a 4 part series, because so much had happened!
This year, a ton happened, too. I can hardly believe how mainstream the issue is becoming, especially compared to just a few years ago when I started this blog. It's incredible and very encouraging. In fact,  it's growing so much that a team at the University of Bristol began a research project on anti-street harassment activism campaigns this year to chart how the movement has spread/is spreading. They will give us recommendations on what works best.
This post focuses on 15 of the many efforts that happened in 2013 to stop street harassment. On the SSH blog, you can also find:
* Our 10 successes in 2013
* 16 memorable stories about people who stood up to street harassers this year
* 30 new resources
15 Efforts:
1. India Responded to the Delhi Gang Rape
While the horrendous Delhi Gang Rape occurred in late December 2012, the outrage and campaigns to address sexual violence were in full force in January and continued throughout 2013. For example:
* Starting January 1, Blank Noise hosted a #SafeCityPledge Tweet Chat on January 19 and held several in-person events where people stood in public places holding signs with their pledges.
* Thousands of women marched in Delhi on January 2, calling for an end to sexual violence.
* 100 men in their 20s gathered in skirts in India in mid-January to challenge victim-blaming of women. They said, "I promise that I will be sensitive to gender issues in the way I speak and act. I promise not to be passive. I will step in if I hear offensive speech or views."
* In March, a group of male bikers issued public apologies to "Delhi women" on behalf of "Delhi men."
* On March 8, Breakthrough  held a #RingTheBell Tweet Chat about preventing sexual violence.
* In April, the smartphone safety app Circle of 6 launched a version localized to Delhi.
A year later, here are the outcomes of the outrage and campaigns in India, especially in Delhi.
2. Everyday Sexism was #ShoutingBack against Street Harassment and Facebook

Laura Bates began the Everyday Sexism website and Twitter account in 2012, but it grew enormously in 2013. The Twitter account has over 100,000 followers and in December 2013, the site received the 50,000th message about "everyday sexism" that women experience. Based in the UK, during summer 2013, Everyday Sexism expanded to 16 other countries, all run by local volunteers.
A significant percentage of the messages and stories women submit address street harassment, regularly bringing more attention to the issue. Everyday Sexism has hosted several Tweet Chats specifically on the topic of street harassment, including the #ShoutingBack chat. The chat began January 8, 2013, and lasted several days as thousands of stories of vile and scary street harassment poured over Twitter. In March, they held another chat about being #followed in public spaces.
ALSO: Everyday Sexism joined forces with Women, Action & the Media and writer/activist (and SSH ally) Soraya Chemlay to challenge the pro-rape pages on Facebook that Facebook admins refused to take down. Their campaign succeeded in May – Facebook revised its policy – and SSH was a proud supporter of the campaign.
3. There was #Outcry in Germany against Sexual Harassment
In late January, Mr. Brüderle of the FDP (Liberals in Germany) harassed a journalist (Laura Himmelreich). She wrote about it and some people blamed her and told her that she shouldn't make a big deal about the sexual harassment. Many German women disagreed and turned her personal problem into a political statement. Anne Wizorek began using the hashtag #Aufschrei (#Outcry) on Twitter and within 48 hours there were 30,000 Tweets from women sharing stories of sexual harassment, including street harassment.
4. Egyptian Activists Entered "Circles of Hell" to Protect Women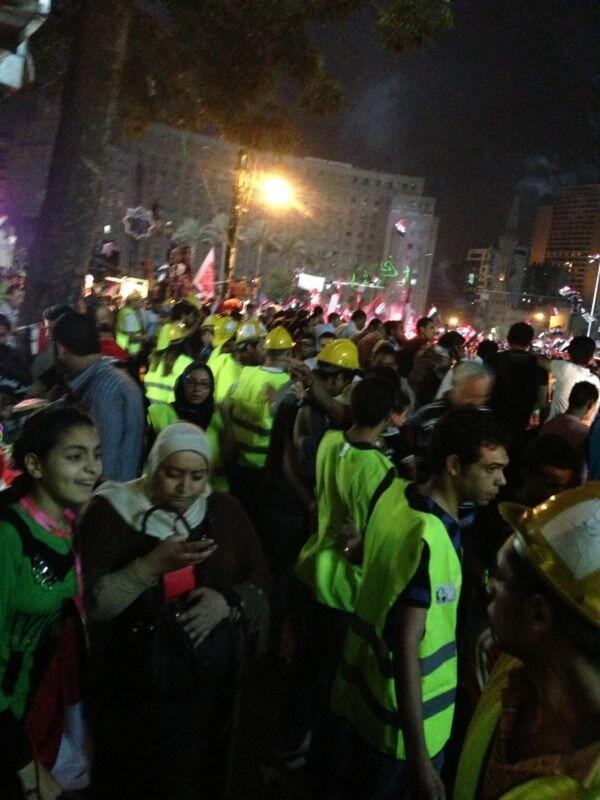 On January 25, 2013, during the protest to mark the two-year anniversary of the revolution in Egypt, and during other political protests that took place at Tahrir Square throughout 2013, some men routinely sexually harassed, assaulted and raped women. Many perpetrators used a tactic dubbed "the circle of hell," where the men organize ahead of time and go into the crowds to find a woman or two alone, form a circle around her and work together to take off her clothes and assault her.
At the end of 2012, Op Anti-Sexual Harassment/Assault, a collective of anti-harassment groups like HarassMap, formed, and throughout 2013, their volunteer members worked hard to protect women protesters from attackers. (Read a first-hand account from a volunteer.) They also catalogued and reported on the attacks that occurred during protests to make sure they were recognized and not ignored.
5. 58 Cities Took Concrete Action for Women's Safety
What concrete actions can grassroots groups take to make their cities safer for women and girls?  The Huairou Commission posed this question in early 2013 when they launched a campaign called Delhi and Beyond: Concrete Actions for Safer Cities. During a global day of action on February 19, 2013, 66 groups in 26 countries joined the Huairou Commission's campaign and answered that question.
The groups held meetings with public officials in 58 cities—from Cordoba, Argentina, to Edinburgh, UK—to discuss their ideas for localized strategies and to sign agreements to work together to address gender violence. Here is what SSH did in Washington, D.C.
"Showing women not as victims only, but as agents of development able to transform a conflict into a political agenda," was one campaign goal, says Carolina Pinheiro, the Huairou Commission's Governance Campaign Coordinator, and it was achieved.
6. The United Nations Addressed Women's Safety in Public Spaces
The United Nations has done a lot this year to address sexual harassment and violence in public spaces!
"Whether walking city streets, using public transport, going to school, or selling goods at the market, women and girls are subject to the threat of sexual harassment and violence. This reality of daily life limits women's freedom to get an education, to work, to participate in politics – or to simply enjoy their own neighbourhoods," wrote the former executive director of UN Women and former president of Chile, Michele Bachelet in February.
Each March, the UN holds a Commission on the Status of Women (CSW). In March 2013, CSW focused on eliminating and preventing violence against women and girls. Several sessions during CSW addressed street harassment, including a session that gave a campaign update on the Safe Cities Free of Violence against Women and Girls Global Programme that began in 2010. Most important, for the first time ever, the UN included several clauses about sexual harassment in public spaces in its Agreed Conclusions, signaling a shift in how this issue is viewed and its level of importance.
In the spring, Microsoft became the UN's first private sector partner on the Safe Cities Programme. Since then, UN Women has been undertaking investigations in India, Rio and Marrakesh to determine the potential use of mobile phones for prevention, documentation, and response to violence against women and girls in cities. The outcomes will inform future products by Microsoft for use by groups like UN Women. (Full disclosure: I am a paid consultant on this project)
On the 25th of every month, the UNiTE to End Violence against Women campaign focuses on different types of violence against women and girls through online awareness-raising and many activist groups hold events in their communities. In October, they focused on harassment and violence in public places and how people can make those spaces safer for women and girls and many groups took action around the world.
7. 150 Groups Worked to #EndSH
SSH's Meet Us on the Street: International Anti-Street Harassment Week was larger than ever in 2013. From April 7-13, around 150 groups in 22 countries held rallies, sidewalk chalking parties, events, and online campaigns to bring attention to street harassment. Five successful tweet chats and dozens of articles in the media brought further focus to the issue. In New York City, city council members and Scott Stringer, the Manhattan Borough President, joined activists and street harassment survivors in speaking out against the issue at a rally. Read the report.
8. Several Transit Campaigns Launched or Expanded
Numerous cities tackled sexual harassment on their transit systems, including:
* Boston: The first transit agency in the USA to address sexual harassment, MBTA continued to be a leader on the issue with the release of a new wave of ads in April, including several where men were the victims/survivors of harassment.
* London: The British Transit Police worked with local activist groups to launch a Project Guardian campaign in July, #ProjGuardian. The Guardian newspaper reported: "In the first initiative of its kind of this size, all 2,000 officers who police the city's public transport network – including the underground, overground trains and the buses – have been trained to deal with sexual offences. Up to 180 officers at a time are to be deployed at stations as part of Project Guardian."
* Ottawa: Throughout the year, Hollaback! Ottawa held public forums, conducted a survey, and did a lot of media interviews to pressure their transit system to address harassment. The transit system continues to be reluctant to adequately address the issue.
* Philadelphia: Hollaback! Philly fundraised and designed several posters for SEPTA that went up for International Anti-Street Harassment Week. The ads sparked a lot of in person conversations and online media coverage.
* Vancouver: In October, two Simon Fraser University classmates launched a website (Harassment on TransLink) to share stories of harassment from public-transit riders across Metro Vancouver for a school project. The site received more than a dozen submissions in its first day, and stories of "aggressive" and "scary" behaviour continue to come in to translink.harassment@gmail.com.
* Washington, D.C.: WMATA continued to expand its campaign by designing and testing trainings for all front line employees so they will know how to respond to reports of sexual harassment. Around 4,000 employees will be trained in 2014.
9. Egyptian Activists Held Campaigns for Harassment-Free Holidays
In addition to protests, Eid is another time when a lot of sexual harassment and assault happens in Egypt. In August, the Imprint Movement and Op Anti-Sexual Harassment/Assault launched a campaign called "Eid without Harassment" on Talaat Harb Square. They had three teams: patrolling, awareness, and operations. They spoke and interacted with bystanders about the importance of rejecting this crime and rejecting violence. Their achievements:
* The prevention of 65 individual (verbal and physical) sexual harassment incidents
* The prevention of five mass harassment incidents.
* Two reports filed at the Tahrir police station.
* 70 people volunteered
In October over Eid, "I Saw Harassment" campaign volunteers did intervention, rescue, and awareness-raising work in downtown Cairo from noon until 10 p.m. each day of the holiday. Across the four days, they stopped 65 incidents.
10. Summits and Working Groups
There are so many anti-street harassment groups now that I can't list all of there important events, but here are three that especially caught my attention this year:
* Brooklyn Movement Center began holding regular working groups to discuss the problems of & solutions to street harassment in their community.
* Girls for Gender Equity and other members of the Coalition for Gender Equity in Schools (CGES) held a Youth Summit on Street Harassment on March 25, 2013 at the Urban Assembly Institute for 100 students who participated in a range of workshops about street harassment.
* Hollaback! held Holla: Rev, the first-ever international speakers series on ending street harassment.
11. Michaela Cross's CNN iReport Broke a Record
In August, white American Michaela Cross, a University of Chicago student, wrote a CNN iReport about the relentless street harassment she faced while studying abroad in India and the negative impact it continues to have on her life. It sparked huge debate online about many topics – including street harassment – and became the most viewed iReport of all time. It also prompted CNN to create a whole section on their site dedicated to street harassment and sexual violence stories! 160 people filed iReports there.
12. Stop Telling Women to Smile Art Raised Awareness
While artist Tatyana Fazlalizadeh started her Stop Telling Women to Smile public art initiative in 2012, it expanded significantly in 2013. She held an art show during Anti-Street Harassment Week and, over the summer, she had a successful Kickstarter campaign in the summer (she raised nearly $20k over her $15k goal) and spent the fall traveling to cities across the country to hear women's street harassment stories and make public art specific to their community. Her art has been featured in many major media outlets, sparking countless online debates, and has brought tremendous attention to the issue.
13. Organizations Promoted Harassment-Free Cycling
In late 2013, groups in Egypt, India, and the USA held events focused on women, cycling and street harassment.
* Egypt: "We Will Ride Bicycles" aims to confront street harassment. October was their first event and women and their male allies rode bicycles around Cairo! "The activists behind the campaign said they chose the theme of riding bicycles to promote women and girl's rights to run errands through cycling without being afraid of attracting negative reaction in the streets."
* India: In October, after men attacked a popular comedian and cyclist in Delhi, activists organized a "Take Delhi Back" event. At least 300 people cycled from India Gate to the Biodiversity Park to protest street harassment.
* USA: Collective Action for Safe Spaces held a 19th Amendment Alleycat in October with nearly 200 participants. An all-women scavenger-style bike race benefited CASS and gave women an empowering and safe way to cycle throughout the city. In November, they teamed up with the Washington Area Bicyclist Association to hold a workshop on street harassment and cycling.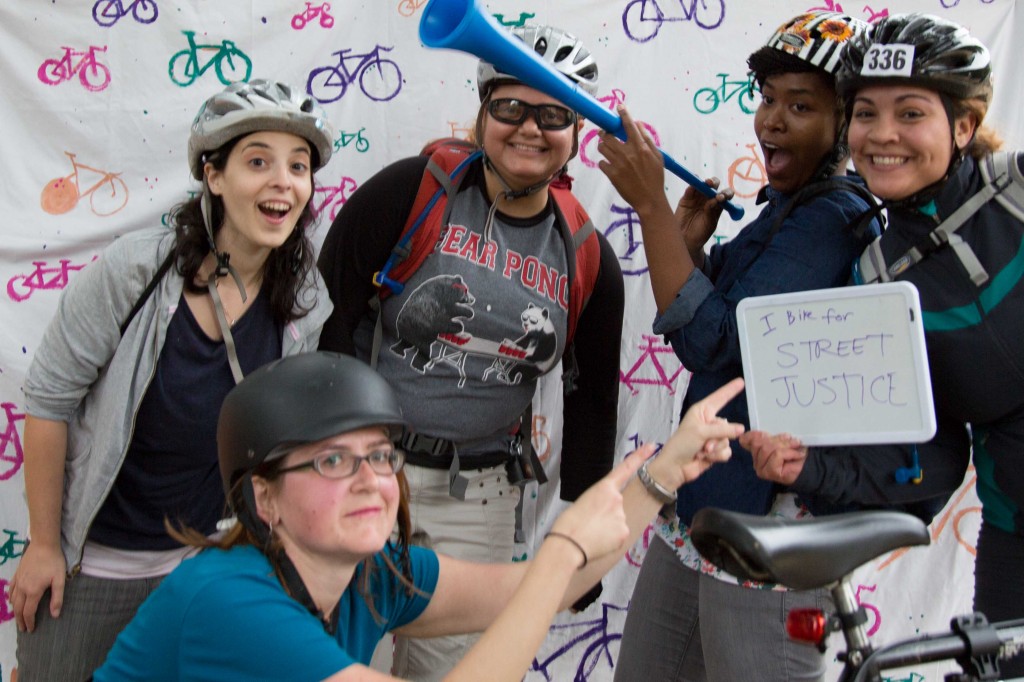 14. Philadelphia Held the Second-Ever City Council Hearing on Street Harassment
In November, the second-ever city council hearing on street harassment was held in Philadelphia, PA (the first was held in 2010 in New York City). This hearing came about because Council Member James Kenney read tweets by Hollaback! Philly about street harassment, researched the issue and he decided he wanted to address it. When he reached out to Hollaback! Philly over Twitter to ask what he could do, Hollaback! Philly's director Rochelle Keyhan requested a city council hearing. Nine people testified and the four male city council members who listened were very sympathetic and strongly against the issue. This is HUGE progress. After the hearing, Council Member Kenney met with us and assured us this was not a "one and done day," but that he was committed to working with Hollaback! Philly and other groups to address the issue.
15. SSH Let People Know Their Legal Rights
Many forms of street harassment are illegal in the United States, and you can report them to the police, even if you do not have a strong physical description of the person.
We believe there is no "best" way to deal with street harassment, since every situation and every person differs, SSH released a state-by-state guide. Even if you don't choose to report harassers to the police (there are many valid reasons why someone may not want to), having the ability to tell a harasser his/her actions are illegal may diffuse the situation, as can asking a police officer to tell a harasser to clear out from an area (without issuing an arrest).
DONATE — All donations are being matched through the end of 2013!
Share on Facebook