A great way to raise public awareness and educate people about street harassment as well as mobilize people to action is to hold an event.
New: Read about the Fight Harassment 101 ten week course at American University, Cairo!
Here are five examples:
1. INCITE! Community Education Speak Out
A few years ago, INCITE! Women of Color Against Violence organized a day of action against street harassment in Washington, D.C., called the Community Education Speak Out. Nearly one hundred community members attended, holding anti-street harassment signs and demanding an end to the "degrading behavior through community education and the development of a respectful view of girls and women." Throughout the day, girls and women had the opportunity to share their stories, read their poetry, and participate in drumming and chanting about street harassment. Martial arts and self -defense trainers gave presentations and taught attendees basic self-defense moves to help them feel more confident in public. Last, attendees learned about ways they can respond to street harassment and practiced role playing various strategies.
2. "Don't Grab My Ass" Campus Discussion
Each year, the University of California at Santa Barbara's (UCSB) Rape Prevention Education Program (RPEP) holds campus street harassment discussions called "Don't Grab My Ass." At the opening of the discussion, the facilitator ask attendees to shout out stereotypes about how men and women are supposed to behave.  They talk about how those strict gender roles relate to street harassment.  Next there is a general discussion about street harassment. Last, attendees break into small groups to discuss a street harassment situation they have experienced or witnessed. They talk about how it made them feel, what they did, and what a bystander did or could have done. They act out one of the scenarios in front of the full group, including what they would have liked to have done in the situation.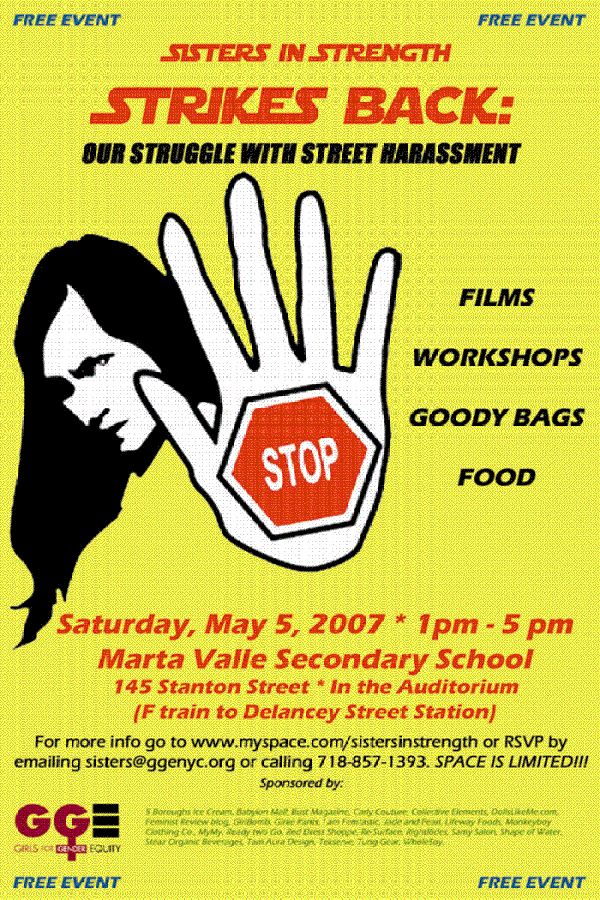 3. Street Harassment Summit
Girls for Gender Equity (GGE) hosted a free, afternoon street harassment summit a few years ago. They were able to secure a free venue by holding it at a local school and were able to offset other costs through sponsorships from local businesses. More than 100 people of all ages, genders, and racial backgrounds attended and most were teenagers. GGE aired two documentaries at the opening of the summit, War Zone, and they debuted their documentary Hey…Shorty. After the documentaries, there were breakout interactive workshop sessions on a variety of topics. To wrap up, attendees further discussed issues of street harassment over snacks in the school cafeteria.
4. Hollaback Bmore Launch Party
To celebrate the launch of the new Hollaback Baltimore organization and website, founder Shawna Potter hosted a fun event at a downtown gallery. There was a small suggested donation fee to help cover the costs, free food, cash bar, and a $2 raffle with great prizes (including the Stop Street Harassment book). A dozen like-minded local organizations and stores had tables with pamphlets and items for sale, bringing in a nice community feel. The evening was interspersed with music from several local bands, a comedy set about street harassment by Lucé Tomlin-Brenner, and talks about street harassment and how to get involved with Hollaback Baltimore. Nearly 100 people attended throughout the evening.
5. "Hey Baby!: Resisting Sexual Harassment in Public Spaces, One Bloque at a Time"
An art-focused event in Asheville, NC, 100 people browsed through previously submitted pieces of art relating to street harassment and selected pieces they would like to use to raise awareness about street harassment. Examples of the art included magnetic bumper stickers with phrases like "You sexually harassed me," that people can place on the vehicle of a harasser ( that way the harasser can take it off but he will have to think about it as he does so), bike flags, and business cards with instructions for appropriate interaction. Music, community dialogue, and harassment stories were shared during the event, too.
A Few Tips for Organizing a Community Event:
1. Low-cost or free locations for an event often include: the local community center or YMCA/YWCA, a high school or college campus, or a local park or library.
2. If possible, make the event free, or do "donation suggested" entry fee to make sure people are not left out from attending because of the cost.
3. Reach out to relevant organizations to be collaborators or to recruit attendees.
4. Create a Facebook event page and send details of the event to local media, schools, and relevant groups or organizations. Post fliers in relevant areas.
5. It's always a good idea to have some food, either homemade or store-bought snacks. Sometimes grocery stores will be willing to donate food for an event in exchange for recognition during the event and on any printed materials.
6. If you have friends or colleagues who are interested in the event but don't want to help organize it, ask them to help provide funds, food, or advertise the event to their networks.